Kathryn Budig – Saya mencintai variasi Hollow Back Variation dari posisi yoga Pincha Mayurasana, karena yoga pose ini memberikan strectching yang sangat intens di punggung. Saya berusaha keras untuk sempurna pada posisi backbend; dan posisi ini memberikan "chest opening" yang sangat baik. Posisi back bend lainnya biasanya memberikan hal-hal yang terbatas.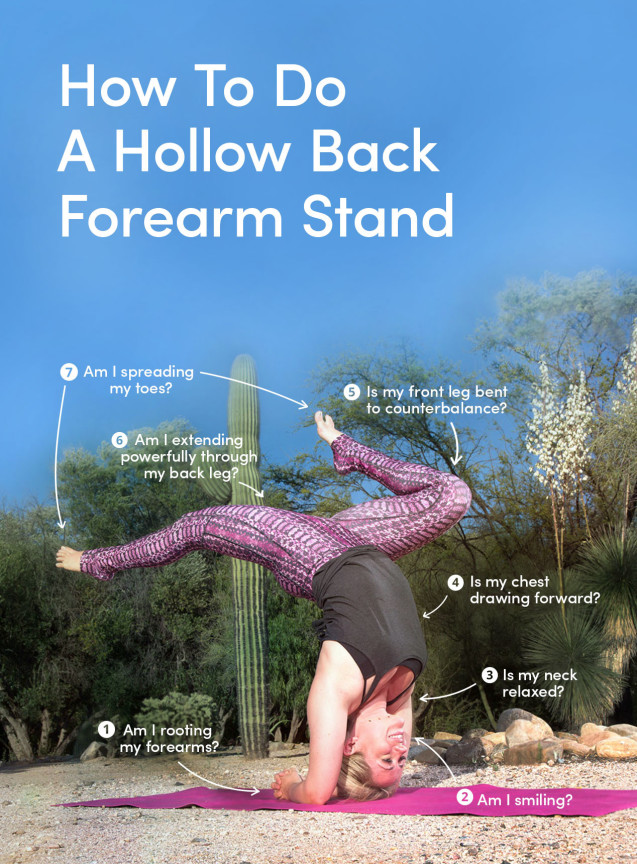 Untuk mendapatkan inti dari posisi ini, ada baiknya fokus pada bagian dada. Bentuk dari "hollowed back" akan terbentuk secara natural dengan kekuatan kaki dan otot sekitar dada.
Dibawah ini adalah elemen-elemen yang patut diperhatikan pada saat latihan:
Apaka tangan bagian depan – forearm saya mengakar di alas?
Apakah saya tersenyum?
Apakah leher saya rilejs?
Apakah dada saya pada posisi maju ke depan?
Apakah kaki bagian depan menekuk untuk memberikan keseimbangan yang baik?
Apakah saya "extending" posisi saya dengan menggunakan kaki belakang?
Apakah saya melebarkan ibu jari kaki?
Apakah tangan saya berotasi keluar?
Editor's Note: Internationally renowned yoga teacher Kathryn Budig, was a speaker at our revitalize event this year, where she delivered a powerful talk on body image plays an important role in a conversation that is always changing.
During revitalize, we caught up with Kathryn after her Aim True yoga class, and she demonstrated one of her favorite poses: a "Hollow-Back" Forearm Stand (Pincha Mayurasana). If you're new to this style of inversion, check out her full tutorial for the pose here.